PTU-Fuck Love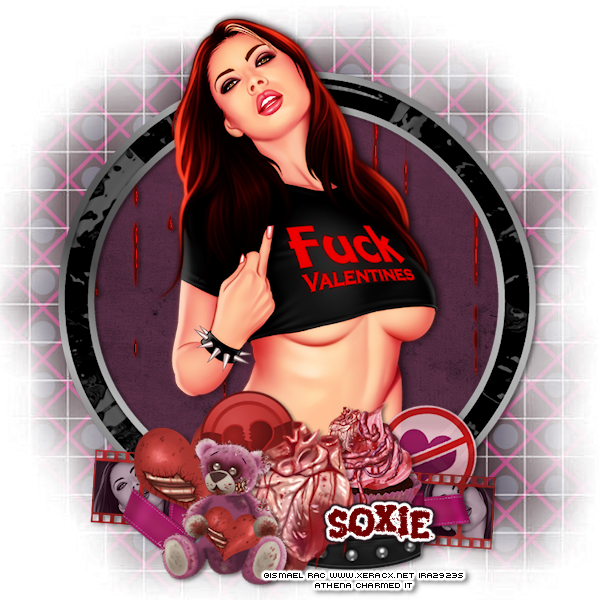 This tutorial was written of my own design. Any similarities to any other tutorial is purely coincidental.
SUPPLIES
Kit of choice: I am using Fuck Love by Soxsational Scraps. You can purchase her kit
here
.
Tube of choice: I am using the artwork of Ismael Rac. You must have a license to use this artwork.
Mask of choice: I am using one of the unknowns that I have.
Font of choice: I am using Slaughter House.
Xero:Radiance-Default settings
ELEMENTS FROM KIT
7
11
13
14
15
22
23
24
47
53
54
PAPERS FROM KIT
6
RESIZE YOUR ELEMENTS TO YOUR LIKING
ADD DROP SHADOWS AS YOU GO
Let's Get Started
Open new canvas 800x800
Flood fill white
Open element 15
C/P to workspace
Using magic wand
Select inside of frame
Selections Float Defloat Modify Expand 6
New raster layer
Flood fill with color of choice
Selections None
Apply a texture of choice
Open your elements
C/P to workspace
Cluster your elements to your liking
You can use my tag for reference if you wish.
Open tube
C/P to workspace
Position into desired location
Drag below your clustered elements
Erase any overlapping tube below clustered elements
Duplicate your tube
Adjust Blur Gaussion Blur 3
Change the blend mode to soft light
Apply drop shadow to bottom tube only
Open paper 6
C/P to workspace
Drag below all layers
Apply mask.
Crop/Resize your tag
Add your name
Add your copyright
And your done!!
Happy Creating!!