PTU-So Blue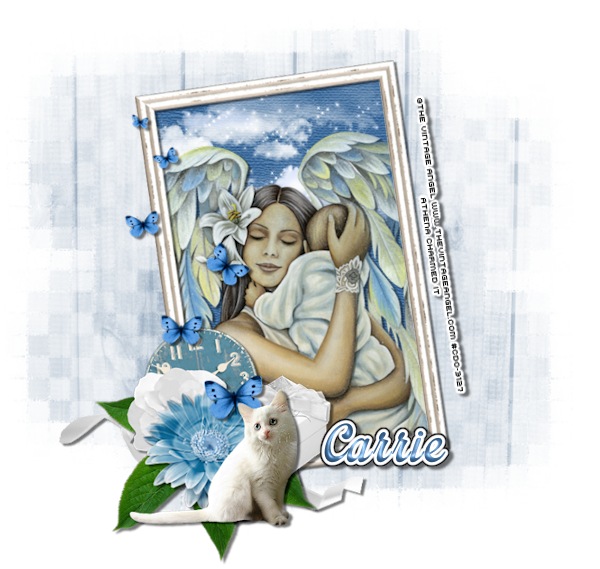 This tutorial is written of my own design. Any similarities to any other tutorial is purely coincidental.
SUPPLIES
Kit of choice: I am using So Blue by Pink Paradox Productions. You can purchase this kit
here
.
Mask of choice: I am using mask 365 by Vix. You can download
here
.
Font of choice: I am using Impregnable
Tube of choice: I am using The Vintage Angel. You must have a license to use this artwork.
ELEMENTS FROM KIT
3
15
30
31
34 Mirror-Flip
37
39
4148
53
FRAMES
5-Rotate Right-Free Rotate Right 8%
PAPERS
8
DOWNSIZE YOUR ELEMENTS TO YOUR LIKING
ADD YOUR DROP SHADOWS AS YOU GO
Let's Get Started
Open new canvas 800x800
Open Frame 5-Be sure to rotate as stated above
C/P to worskpace
With your magic wand, select inside of frame
Selections Float Defloat Modify Expand 7
New Raster layer
Flood fill with color of choice
Selections None
Apply a texture of your choosing
Open Element 30
C/P to workspace
Drag below frame layer
Highlight your flood filled layer
Selections Float Defloat
Highlight the clouds layers
Selections Invert
Hit delete key
Selections None
Open your tube layer
C/P to workspace
Drag below frame layer, but above cloud layer
Position into place
Erase any over lapping outside of the frame
Open your elements
Cluster into desired position
Be sure to add your drop shadows.
Open paper 8
C/P to workspace
Drag all the way to the bottom
Apply your mask
Resize your tag
add your name
Add your copyright
And your done.
Happy Creating!!