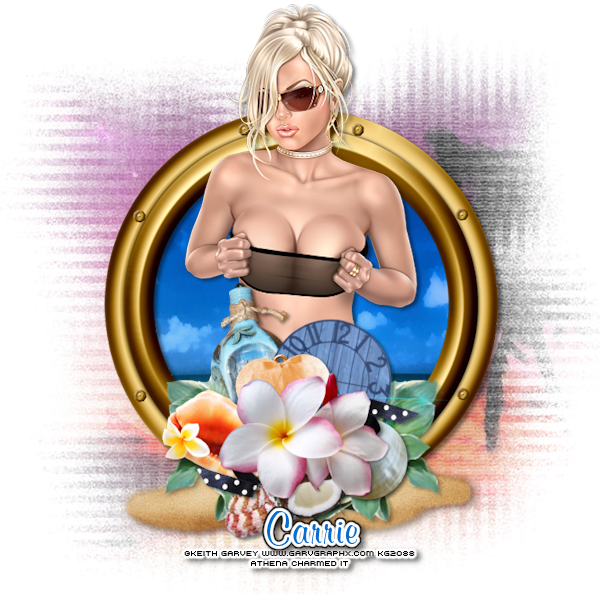 This tutorial is written of my own design. Any similarities to any other tutorial is purely coincidental.
SUPPLIES
Kit of choice: I am using Just Beachy by Pink Paradox Productions. You can purchase her kits
here
.
Tube of choice: I am using Keith Garvey. You must have a license to use his artwork.
Mask of choice: This is the unknown mask I use frequently. If it's yours or know who's it it. Please let me know.
Font of choice: I am using Mural Script.
ELEMENTS FROM KIT
1
8
10
18
24
48
76
101
108
113
118
128
FRAMES FROM KIT
2
PAPERS FROM KIT
3
9
DOWNSIZE ELEMENTS TO YOUR LIKING
ADD YOUR DROP SHADOW AS YOU GO
USE MY TAG AS PLACEMENT IDEAS
Let's Get Started
Open new canvas 800x800
Flood fill white
Open your frame
Resize 500
C/P to workspace
Using your magic wand, select inside of frame
Selections Float Defloat Modify Expand 8
Open paper 3
C/P to workspace
Selections Invert
Hit delete
Selections None
Drag paper layer below frame layer
Open your elements
C/P to workspace
Cluster elements to your liking
Open your tube
C/P to workspace
Position behind clustered elements
But above frame layer
Erase any overlapping below the cluster frame
Open paper 9
C/P to workspace
Drag below all layers
Apply mask
Crop/Resize tag
Add your name
Add copyright
And your done!!
Happy Creating!!