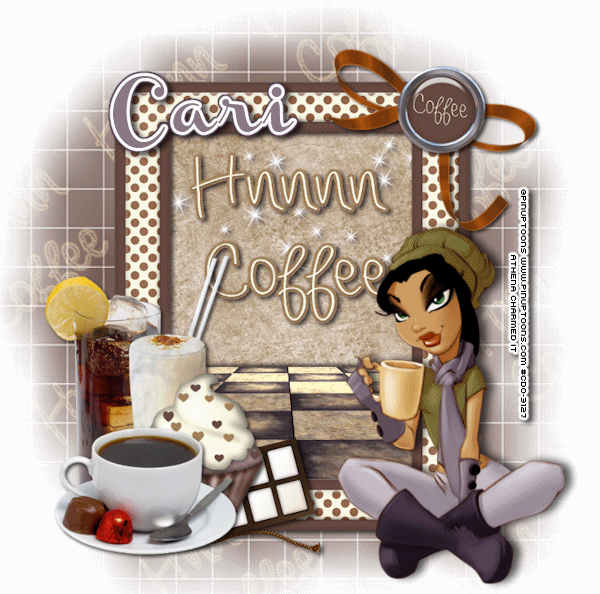 This tutorial is written of my own design. Any similarities to any other tutorial is purely coincidental.
SUPPLIES
Kit of choice: I am using Hmmm Coffee by Black Widow Creationz. You can purchase this kit
here
.
Tube of choice: I am using Pinuptoons. You must have a license to use this artwork.
Font of choice: I am using Chanel
Mask of choice: I don't know where I picked up this mask. So if it is yours or you know who's its is, please let me know.
Animation: I am using some steam animations by Scrappy Bit Of Fun. Steam #77. You can download
here
.
ELEMENTS FROM KIT
5
6
7
11
14
15
16
25
34
38
39
40
PAPERS FROM KIT
1
9
DOWNSIZE ELEMENTS TO YOUR LIKING
ADD YOUR DROP SHADOWS AS YOU GO
Open new canvas 800x800
Flood fill white
Open element 25
C/P to workspace
Using magic wand, select inside of frame
Selections - Float -Defloat - Modify- Expand-7
Open paper 1
C/P to workspace
Selections - Invert
Hit delete key
Selections- None
Drag paper layer below frame
Open element 5
C/P to workspace
Drag below frame layer, above paper layer
Position into place
Erase any excess outside of frame
Repeat above steps for element 40
Open your left over elements and position to your liking.
Open tube
C/P to workspace
Position into place
Apply your mask with paper 9.
Resize your mask to your liking
Add your name
Add your copyright
If you do not wish to animate, save your tag as is.
ANIMATION SHOP
Open your animation in AS
Edit-Select All
Animation- Resize Animation to 200
Back to PSP
Copy Merged tag
Take over to AS
Paste as a new animation

Right click and duplicate your tag until you have 21 frames
Edit- Select All
On your animation
right click, and select copy
Back to your tag
Right click and paste into selected frame
Position steam above coffee cup
View your animation
If its to your liking save your tag.
And your done.
Happy Creating!!