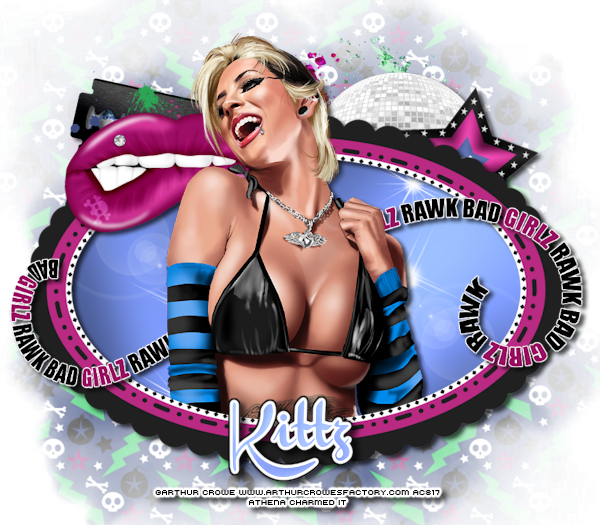 This tutorial is written of my own design. Any similarities to any other tutorial is purely coincidental.
SUPPLIES
Kit of choice: I am using Bad Girlz by Kittz Kreationz. You can download
here
.
Mask of choice: I am using a mask I created. This mask will be available for download soon as it is exclusive to the Creative Misfits blog. Check
here
often for download.
Tube of choice: I am using the artwork of Arthur Crowe. You must have a license to use this artwork.
Font of choice: I am using Chanel
Plug Ins: Greg's Factory Output Vol. 2-Pool Shadow on default settings
ELEMENTS FROM KIT
2
20
31
40
41
44
46
49
PAPERS FROM KIT
6
ADD YOUR DROP SHADOWS AS YOU GO
DOWNSIZE YOUR ELEMENTS TO YOUR LIKING
LET'S GET STARTED
Open new canvas 800x800
Flood fill white
Open element 46
C/P to workspace
With magic wand, select inside of the frame
Selections-float-defloat-modify-expand-7
New raster layer
Drag below frame layer
Flood fill with coordinating color
Selections-None
On your new flood fill layer, apply Greg's Factory Output plug in.
Open your tube
C/P to workspace
Position into place
Duplicate tube and drag below frame layer
On both tubes, erase any over lapping parts
Now open your elements
Position into place
Open paper 6
C/P to workspace
Drag below all layers
Apply your mask
Resize your tag to your liking
Add your name
Add your copyright and your done.
Happy Creating!!