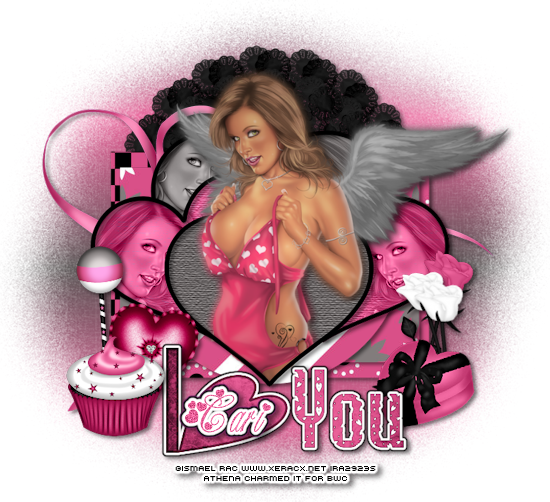 This tutorial was written of my own design. Any similarities is purely coincidental.
SUPPLIES
Kit: I am using Love Me Now by Black Widow Creationz. You can purchase this or any of her other kits
here
.
Tube of choice: I am using Ismael Rac. You must have a license to use his artwork.
Mask of choice: I am using mask 80 by Vaybs. You can download
here
.
Template is by Leah from Amy and Leah's Gimptastic tuts. You can download from the Creative Misfits blog
here
. Template #5 is what I used.
ELEMENTS
2
7
9
16
17
27
28
30
31
PAPERS
2
3
5
9
DOWNSIZE ELEMENTS TO YOUR LIKING
I CREATED FRAMES AROUND MY HEARTS. I USED THE FOLLOWING METHOD
* HIGHLIGHT HEART SELECTIONS-SELECT ALL-FLOAT-DEFLOAT-MODIFY-SELECT SELECTIONS BORDERS-3 NEW RASTER LAYER, FLOOD FILL BLACK*
WHEN ADDING YOUR PAPER TO TEMPLATE LAYERS, I USED THE FOLLOWING METHOD
*HIGHLIGHT TEMPLATE LAYER
SELECTIONS-FLOAT-DEFLOAT-PASTE AS A NEW LAYER
SELECTIONS-INVERT HIT DELETE*
ADD DROP SHADOWS AS YOU GO
LET'S GET STARTED
Open your template
Delete the credits layer
Add new raster layer and flood fill white
Drag to the bottom of template layers
Starting at the bottom apply paper 3 to layer 9
Paper 5 to layer 8
Paper 2 to layer 7
Paper 9 to layer 5 & 6
For each heart layer
highlight selections-float-defloat
new raster
flood fill with color of choice
selections-none
Add a frame around heart layer
Do this for each heart layer
Open your elements
C/P to workspace and place into desired postion
I used a gradient for my mask layer.
Apply mask
Resize to desired size.
Add name
Add copyright
And your done.