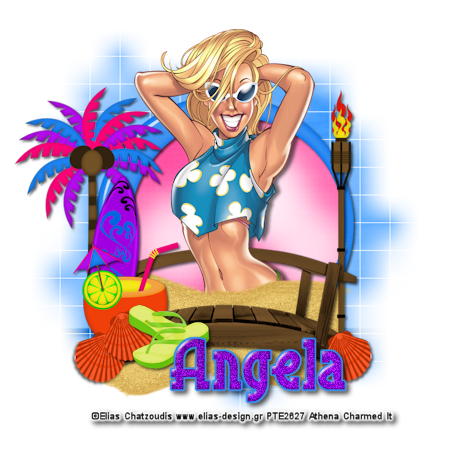 This tutorial and tag was written of my own design. Any similarity to any other tutorial is purely coincidental.
Supplies
Scrap Kit of Choice: I am using the scrap kit Summer Nights by Angela over at Angela's Tuts N Tag.
Here
Tube of choice: I am using my FAV artwork. Elias Chatzoudis. You must have a license to use his artwork.
Mask of choice: I am using a mask from Weescotslass.
Here
.
Font: I'm using Blue Plate Special
I used DSB Bright Noise for the name and Eyecandy Glass
Elements and Papers used
Frame 3
Element 1
Element 5
Element 6
Element 10
Element 14
Element 18
Element 26
Paper 5
Paper 10
Lets Get Started
Open a new canvas 800x800
Open your frame
Copy and paste to workspace
Using magic wand, select inside of frame.
Selections>Modify>Expand by 8
Open Paper 5. Copy.
Paste into Selection.
Selections>None
Drag paper layer below frame layer.
Add drop shadow.
Open element 26.
Copy and paste to workspace.
Downsize to your liking.
Use my example to place.
I duplicated than flipped the second sand so it would have a more natural look.
Using the other elements and my example place them into your tag.
Be sure to add drop shadows.
Open your tube. Copy and paste to workspace.
Size to your liking.
Duplicate tube. Hide the duplicated tube for now.
Drag origianl tube below frame layer.
Using magic wand, highlight paper layer and select with wand.
Highlight tube layer
Selections>Invert>Delete>Selections>None
Unhide and highlight duplicated tube layer.
Using eraser tube, erase part of the tube above the frame. Use my example.
On the original tube, add your drop shadow. I used Lokas 3D shadow.
Apply your mask.
Resize.
Add name.
Add copyright and your done.
If you use my tutorial I would love to see what you create!!